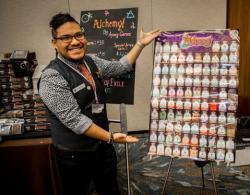 Arisia is bringing back a big hit from 2016, the Indie Game Expo! This year, it will be bigger and better! Renamed the Arisia Indie*Expo, it will include the Artists & Authors Alley, along with comic authors and artists, makers, and of course, game designers of all stripes. These creators will be on hand to display their projects and works, to show you how to play their games, to sign things you buy, and to talk with you about their amazing creations.
The Arisia Indie Expo will be held in the Grand A Ballroom Sat from 10-7 and Sunday 10-3:30.
How Do I Get Involved?
Displaying, demoing, playtesting, and other forms of attendee involvement are encouraged. Indie*Expo will have space for up to 50 tables. If you are interested in joining us or finding out more, application information and expectations can be found on the signup page.
The table fee is $80, and you must be able to set up after 7 AM on Saturday and be cleared by 4:30 PM on Sunday. For more details, we have a FAQ page.
List of Participants
Applications are still open at this time; once our list of participants is confirmed it will be published here.