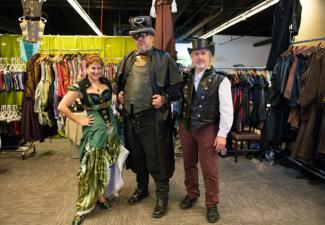 Looking for something special? Have a little time to do some shopping between scheduled events? You'll find all sorts of interesting books, magazines, T-shirts, videos, posters, jewelry, artwork, sculpture, costumes, games, and much more for sale at Arisia.
We have a list of vendors who would have been in the 2022 Dealers' Room.
Proposed Dealers Room Hours are below.
Fri 5:00 PM - 9:00 PM
Sat 10 AM - 7 PM
Sun 10 AM - 7 PM
Mon 10 AM - 2:30 PM
We're now accepting applications for spaces in the Dealers Room. We plan on beginning dealer selection mid-October. Applications received after the selection process begins will be added to the waiting list. For more information, please read the Dealer FAQ.